Frisco Optometry Services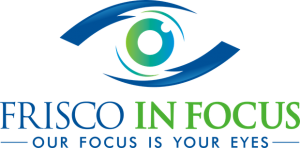 After 16 years of serving in neighboring Plano, Dr. Clark opened Frisco In Focus in 2017 to be a proud provider of optometry services and vision care products in the Frisco community. We want to help you achieve and maintain clear vision for years to come.
Our experienced eye doctor offers comprehensive vision examinations at our Frisco optometry office and are trained in the diagnosis and treatment of a wide array of eye diseases, conditions, and problems. We use advanced diagnostic technology and vision correction products and are committed to improving the quality of life of persons in the Frisco community through enhanced vision. Give yourself the gift of clear vision – schedule an appointment with your eye care provider today.
Mission Statement
The mission of Frisco In Focus is to provide complete vision and medical eye care in a welcoming, comfortable environment. Our goal is to build caring and personable relationships with families by taking the time to understand and meet our patients' needs. We will deliver care with the utmost in integrity, professionalism, and competency, committing ourselves to the latest in education to give our patients the best of care.